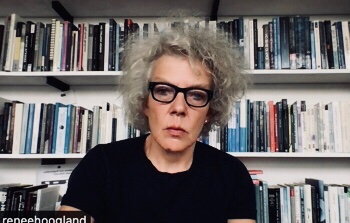 Professor
Vice Chair of the Academic Senate, Former editor of Criticism, and Senior Editor in Chief of MacMillan Handbooks: Gender
248-835-9521
5057 Woodward Ave., #10001 
Website(s)
clasprofiles.wayne.edu/profile/ec0769
Department
Renee carine Hoogland
Research interest(s)/area of expertise
Areas of interest include literature and culture after 1870, visual culture, critical theory, American studies, comparative literature, modern and contemporary art, gender and sexuality studies, queer theory, affect theory, postmodernism, film and media studies, popular culture, new body theory.
Research
I am currently working on a book on photography, tentialvely titled, *Somewhere the Other Side of Nowhere: Contemporary Photography as Life Practice,* a monograph in art criticism and philosophy. The project constitutes a contribution to and intervention in critical-theoretical debates on photography in a digital age and after representation. It will consist of philosophically grounded studies of various sets of contemporary photographic work, from street photography to holiday snapshots and from documentary to portrait and art photography. Each chapter focuses on a particular genre and body of work to explore and ultimately connect the book's guiding research questions.
I received a 2020-21 Keal Fellowship to support the project with a release from teaching in winter 2021, and a Faculty Fellowship from the Humanities Center for Summer 2023.
I am additnoally working on an edited collection, titled, *The Analog Revisited, Again: Questioning the Technical Image in a Digital Age, under contract with Vernon Press.
Education
1987-1991 Ph.D. University of Amsterdam (Modern English Literature/Feminist Theory) 1983-1986 MA (cum laude) University of Amsterdam (Major: English Literature; Minors: American Studies & Comparative Literature) 1980-1983 BA University of Amsterdam (English Language and Literature)
Awards and grants
2023 Humanities Center Faculty Fellowship
2020-2021 Josephine Nevins Keal Faculty Fellowship  
2017 Sabbatical Leave Award, Wayne State University (winter term)
2016 Visiting Professor l'Ecole Doctorale Université Lille Nord de France (December 12-15)
2015/16 Marilyn Williamson Endowed Distinguished Faculty Fellowship, Humanities Center, Wayne State University
2015 Board of Governors Faculty Recognition Award, Wayne State University
2015 Board of Governors Distinguished Faculty Fellowship, Wayne State University
2015/16 Graduate Research Assistant (GRA) Award, Wayne State University
2015 Travel Funds for Graduate Student Field Trip to Berlin (OVPR & Provost's Office)
2014 President's Award for Excellence in Teaching, Wayne State University
2012 Sabbatical Leave Award, Wayne State University (winter term)
2012 Josephine Nevins Keal Faculty Fellowship, Department of English, Wayne State University
2010/16 Humanities Center Working Group Award, "Visual Culture," Wayne State University
2010 Humanities Center "Open Competition" grant, Wayne State University
2007-8 Sabbatical Leave & Research Award, Faculty of Social Sciences, Radboud University Nijmegen
News mentions
Selected publications
Books
A Violent Embrace: Art and Aesthetics after Representation. Lebanon, New Hampshire: University Press of New England, 2014
Lesbian Configurations. Cambridge UK: Polity Press & New York: Columbia University Press, 1997
Elizabeth Bowen: A Reputation in Writing. New York: New York University Press, 1994
Journal articles
"Obnoxiousness and Elizabeth Bowen's Queer/ing Adolescents," Genders 1.2 (Fall) 2016
n.p. [http://www.colorado.edu/genders/2017/04/18/obnoxiousness-and-
elizabeth-bowens-queering-adolescents]
"Perverted Knowledge: Lesbian Sexuality and Theoretical Practice," 25 Years of Feminism,
Special Anniversary Edition of the Journal of Gender Studies (2016) 15-29)
"The Ambivalence of Visual Documentation: The Face in Johan van der Keuken," Wide Screen 4.1 (2012). Web. 
"'Nothing but a Pack of Cards': Semi-Fictitious Persons and Flopping Jellyfish in Elizabeth Bowen," Women: A Cultural Review 22.1 (2011) 1-14
"Feminist Theorizing as 'Transposed Autobiography'," Journal of Lesbian Studies 11.1/2 (2007): 153-9
"Feminist Theory in Intergenerational Perspective," European Journal of Women's Studies 11.4 (2004) 461-472 [with Petra de Vries & Iris van der Tuin]
"Van Bijzondere Vriendschap en "Pervers" Verlangen: De Historische Ontwikkeling van de Damesliefde," [Romantic Friendship and "Perverse" Desire: The Historical Development of Female Same-Sex Love] Ex Tempore—Verleden Tijdschrift 22.3(2003) 155-73
"The Matter of Culture: Aesthetic Experience and Corporeal Being," Mosaic: A Journal for the Interdisciplinary Study of Literature 36.3 (2003) 1-18
"Fact and Fantasy: The Body of Desire in the Age of Posthumanism," Journal of Gender Studies 11.3 (2002) 213-31
"Het Lichaam van Verlangen in het Posthumane Tijdperk" [The Body of Desire in the Age of Posthumanism], Tijdschrift voor Genderstudies 3.2 (2000): 4-15
"First Things First: Fantasy and the Question of Gendered Sexuality," Journal of Gender Studies 8.1(1999): 43-56
"Hard to Swallow: Indigestible Narratives of Lesbian Sexuality," Modern Fiction Studies 41.3 (Fall-Winter 1995): 467-81
"The Perverted Phallus: Psychoanalysis and Lesbian Sex/Textuality," Studies in Psychoanalytic Theory 4.1 (1995): 30-8
"Wat weegt het zwaarst: Freud en de kwestie van het primaat van seksualiteit en sekse," [What Comes First: Freud and the Question of the Primacy of Sexuality and Sex]. Krisis: Filosofisch Tijdschrift XX (1994): 26-40
"Perverted Knowledge: Lesbian Sexuality and Theoretical Practice," Journal of Gender Studies 3.1 (1994): 15-29
"(Sub)textual Configurations: Sexual Ambivalences in Sylvia Plath's The Bell Jar," The Journal of Narrative and Life History 3 (2 & 3) (1993): 179-196
Book chapters
"Elizabeth Bowen's Obnoxious Adolescents," in Jessica Gildersleeve and Patricia Juliana Smith, eds. Elizabeth Bowen: Theory, Thought and Things. Edinburgh: Edinburgh University Press, 2019. 62-78
"Doing Something Close to Nothing: Marina Abramovic's 'War Machine," Colin Gardner and Patricia MacCormack, eds. Ecosophical Aesthetics Art, Ethics and Ecology with Guattari. London & New York: Bloomsbury, 2018. 261-76
Introduction, Macmillan Interdisciplinary Handbooks Gender: Time. Co-authored with Karin Sellberg. Farmington Hills, MI: Cengage, 2018. xiii-xvii
"Un/Becoming Claude Cahun: Zigzagging in a Pack," Colin Gardner and Patricia MacCormack, eds. Deleuze and the Animal. Edinburgh: Edinburgh University Press, 2017. 140-53
"Entering the Compound: Becoming with Carson McCullers' Freaks," Alison Graham- Bertolini and Casey Keyser, eds. Carson McCullers in the Twenty-First Century. London & New York: Palgrave Macmillan, 2016. 113-26
"Seksualiteit als Strijdtoneel: de tomboy en queer studies" [The Arena of Sexuality: the Tomboy and Queer Studies], Rosemarie Buikema & Liedeke Plate, eds. Handboek Genderstudies in Media, Kunst en Cultuur. 2nd ed. Bussum: Coutinho, 2015. 147-62."Floating Signifiers and Fluid Identities: Feminist and Other Queer Travels," Mary Evans & Kathy Davis, eds. Transatlantic Conversations: Feminism as Travelling Theory, London: Ashgate, 2011. 69-79
"The Affective Turn and Visual Literacy," E.H. Oleksy & D. Golanska (eds.), Teaching Visual Culture in an Interdisciplinary Classroom: Feminist (Re)Interpretations of the Field. Utrecht: Athena, 2009. 163-74
"Beautiful Lives and Ethical Selves: Aesthetic Practice at the Threshold of Meaning and Being." Zoe Detsi-Diamanti, Katerina Kitsi-Mitakou, Effie Yiannopoulou, eds. Bodies, Theories, Cultures in the Post-Millennial Era: Selected Proceedings. Thessaloniki: University Studio Press, 2009
"The Arena of Sexuality: The Tomboy and Queer Studies." Doing Gender. Eds. Rosemarie Buikema and Iris van der Tuin. London & New York: Routledge, 2009. 99-113
Courses taught by Renee carine Hoogland
Fall Term 2023 (current)
Winter Term 2023
Fall Term 2022