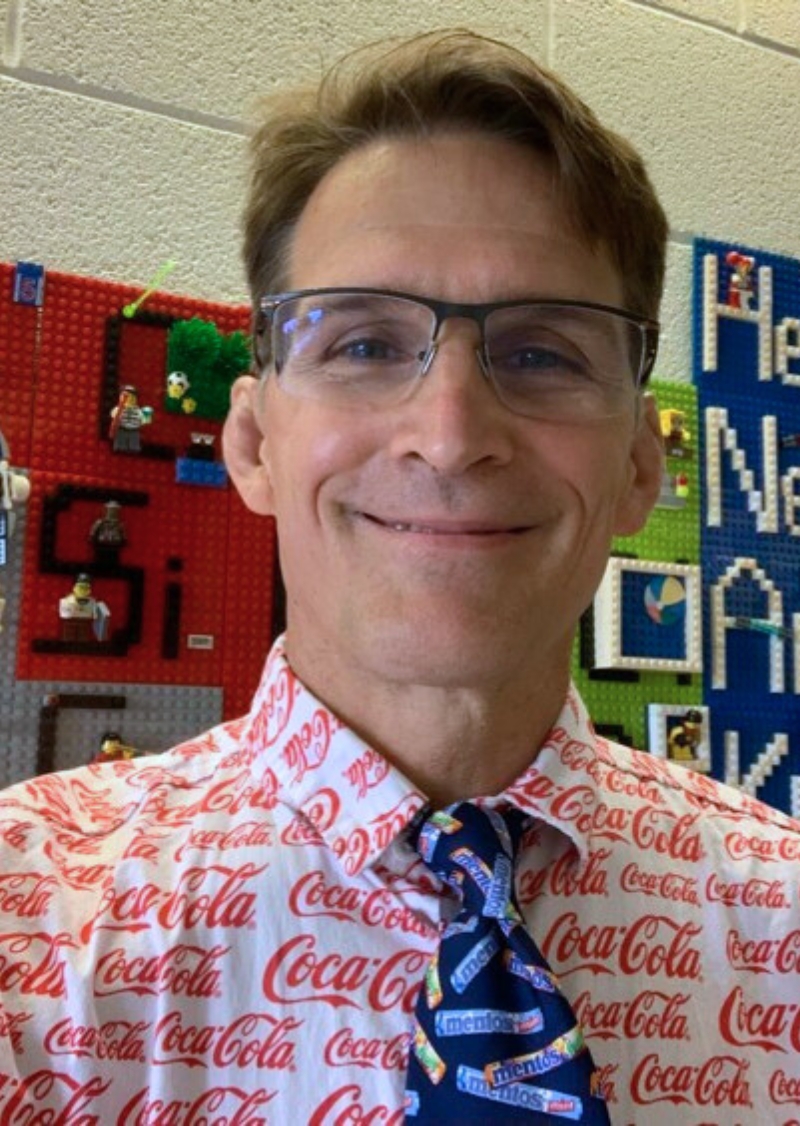 Tom Kuntzleman
Tom Kuntzleman is an educator, scientist, and communicator who is dedicated to igniting the flame of curiosity in the hearts of people of all ages. With a solid background in chemistry and a passion for teaching, Tom has inspired countless students and educators by bringing the wonder of science to life.
Tom's journey as an educator began in the public schools of North Carolina where for seven years he shaped the minds of 8th grade science students, introducing them to the joy of scientific inquiry and discovery.
He decided to delve into science a bit more deeply, and this led him to earn a Ph.D. in Chemistry from the University of Michigan in 2005. Since then, he spent the past two decades teaching at the university level. He has authored over 40 peer reviewed articles, which serve as valuable resources for science teachers seeking to integrate innovative, active learning into the classroom. He further contributes to the field as associate editor at the Chemical Education Xchange, where he has over 150 blog posts that challenge and enlighten readers on various aspects of science education. He also serves as an honorary fellow at the Wisconsin Initiative for Science Literacy at the University of Wisconsin.
Beyond the walls of academia, Tom is an enthusiastic ambassador for science. He has made a significant impact by sharing the wonders of scientific phenomena with the public through captivating science shows. With over 300 such presentations under his belt, he has mesmerized audiences, leaving them with a newfound appreciation for the beauty that lies in everyday scientific occurrences. His popular YouTube channel "Tommy Technetium" boasts a following of over 300,000 subscribers, while his TikTok platform @pchemstud captivates over 90,000 followers.
He likes to say, "I've never had a failed experiment…only new observations" and that his favorite experiment is "whichever one I'm currently doing" (which is most often Coke and Mentos).
Research interest(s)/area of expertise
Research and design of new chemistry demonstrations
Researching the chemistry involved in science experiments of interest to the general public
Education
Ph.D., Physical Chemistry, University of Michigan
M.S., Chemistry, University of North Carolina at Greensboro
B.S. Ed., Chemistry, Bloomsburg University
Awards and grants
2023 ChemEd Irwin Talesnick Award
2022 YouTube Silver Creator Award
2017 Journal of Chemical Education Highly Prolific Author
2016 Flame Challenge Finalist (Video Competition)
2015 Winner of the ChemEd 2015 So You Think You Can Demo Competition
Selected publications
Kuntzleman, T. S.; Kuntzleman, J. T.; Campbell, D. J. A Simple Chemical Oscillator: The "Educator." Journal of Chemical Education, 2022, 99, 3540 – 3545
Kuntzleman, T.S.; Campbell, D. J. The Chemical Wonders of No-Mess Markers Journal of Chemical Education 2022, 99, 2364-2371
Kuntzleman, T.S.; Imhoff, A. M. How Many Bubbles Are in the Foam Produced during the Candy-Cola Soda Geyser? Journal of Chemical Education 2021, 98, 3915 – 3920
Kuntzleman, T. S.; Johnson, R. Probing the Mechanism of Bubble Nucleation in and the Effect of Atmospheric Pressure on the Candy–Cola Soda Geyser Journal of Chemical Education, 2020, 97, 980 – 985
Kuntzleman, T. S.; Jacobson, E. C. Teaching Beer's Law and Absorption Spectrophotometry with a Smart Phone: A Substantially Simplified Protocol. Journal of Chemical Education, 2016, 93, 1249–1252
Courses taught by Tom Kuntzleman
Fall Term 2023 (current)