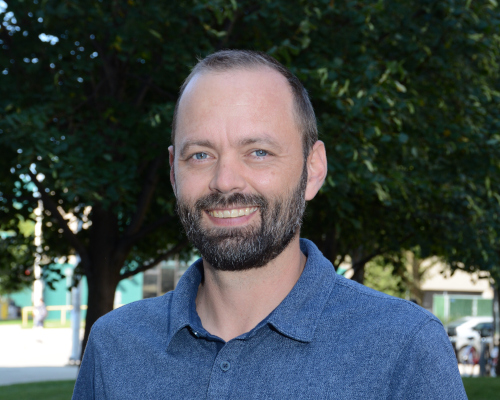 Randy Haas
Department
Anthropology
Dr. Randy Haas is an archaeologist and assistant professor of anthropology. He earned his Ph.D. from The University of Arizona in 2014. Prior to joining the Wayne faculty, he was an assistant professor at the University of California, Davis and a postdoctoral research associate at the Universities of Maryland and Wyoming.
Research interest(s)/area of expertise
forager archaeology, geographic information systems, quantitative methods, comparative methods, archaeometry, gender, foodways, mobility, the Andes, Sierra Nevada Mountains
Research
Dr. Haas studies the evolution of complex human behaviors among ancient forager societies and how those behaviors can inform contemporary behavior. For some 200 thousand years prior to the advent of market and agricultural economies, forager economies were the only human economies on the planet. Dr. Haas uses the archaeological record and quantitative methods to understand how our biology, cultures, and social organization evolved in those forager contexts. His recent work is advancing our understanding of how early hunter-gatherers of the Andes Mountains adapted to physically challenging alpine environments above 3800 meters in altitude and how cooperative social structures, potato and quinoa agriculture, and alpaca husbandry evolved between 12,000 and 3500 years ago. For more information, visit the Forager Complexity Lab.
Education
Ph.D., The University of Arizona, 2014
M.A., Northern Arizona University, 2003
B.A., Northern Arizona Universty, 2001
Awards and grants
2021, Altmetric Top 100 Scientific Paper of 2020. Female Hunters and the Early Americas.
2021, United States Embassy in Lima Ambassador's Fund for the Preservation of Cultural Heritage. Conservation of Ethnographic Objects Associated with the Ancient Huntresses of the Ilave Basin in Puno.
2020, Hellman Fellowship, UC Davis Hellman Fellows Fund. Human Adaptation to Extreme Environments: 9000-year-old DNA from the High Andes, Peru.
Selected publications
(for a complete list and article access, visit the Forager Complexity Lab publications page)
Kitchel, Nathaniel, Mark S. Aldenderfer, and Randall Haas
2021 Diet, mobility, technology, and lithics: Neolithization on the Andean Altiplano, 7.0-3.5 ka. Journal of Archaeological Method and Theory. doi: 10.1007/s10816-021-09525-7.
 
Mackie, Madeline E. and Randall Haas
2021 Estimating the frequency of coincidental spatial associations between Clovis artifacts and proboscidean remains in North America. Quaternary Research 1-11. doi: 10.1017/qua.2021.1.

Haas, Randall, James Watson, Tammy Buonasera, John Southon, Jennifer C. Chen, Sarah Noe, Kevin Smith, Carlos Viviano Llave, Jelmer Eerkens and Glendon Parker
2020 Female hunters of the early Americas. Science Advances 6(45):eabd0310. doi:10.1126/sciadv.abd0310.
Haas, Randall and Steven L. Kuhn
2019 Forager mobility in constructed environments. Current Anthropology 16(4):499-535. doi: 10.1086/704710.
Haas, Randall, Ioana C. Stefanescu, Alexander Garcia-Putnam, Mark S. Aldenderfer, Mark T. Clementz, Melissa S. Murphy, Carlos Viviano Llave, and James T. Watson
2017 Humans permanently occupied the Andean highlands by at least 7 ka. Royal Society Open Science 4(6): 170331. doi: 10.1098/rsos.170331.
Haas, Randall, Cynthia J. Klink, Greg J. Maggard, and Mark S. Aldenderfer
2015 Settlement-size scaling among prehistoric hunter-gatherer settlement systems in the New World. PLoS ONE 10(11):e0140127. doi: 10.1371/journal.pone.0140127.
 
Haas, Randall, and Carlos Viviano Llave
2015 Hunter-gatherers on the eve of agriculture:insights from Soro Mik'aya Patjxa, Lake Titicaca Basin, Peru, 8000-6700 B.P. Antiquity 89(348):1297-1312. doi: 10.15184/aqy.2015.100.
Courses taught
Graduate: Human Foraging Theory seminar, Evolution of Human Cooperation seminar, Anthroplogical Geographic Information Systems
Undergraduate: Forager Anthropology, Andean Archaeology, Introduction to Archaeology, Archaeological Field Methods, Archaeology Field School, Ecological Anthropology