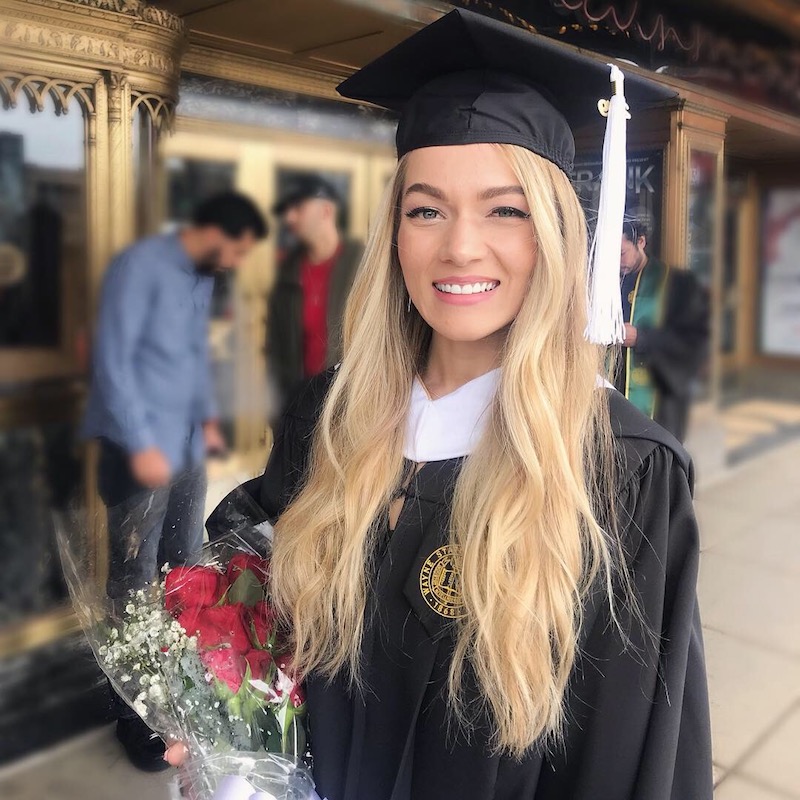 Doctoral Candidate in Behavioral/Cognitive Neuroscience
Graduate Teaching Assistant, Graduate Research Assistant, Rumble Fellow alumna
5057 Woodward Ave., 7th Fl., Detroit, MI 48202
Office no. 7701
Social media
Department
Psychology
Chela Wallin
Chela M Wallin, M.A., is a doctoral candidate in the Behavioral and Cognitive Neuroscience program at Wayne State University. Chela completed her B.S. in psychology at Grand Valley State University where she conducted preclinical research as a McNair Scholar investigating neurobiological changes associated with alcohol use under the supervision of Dr. Glenn Valdez.
After graduation, she took a position with Dr. Scott Bowen's Behavioral Pharmacology and Toxicology Laboratory where she continues preclinical investigations. In collaboration with co-advisor Dr. Susanne Brummelte, Chela completed her Master's thesis in January 2019 which evaluated the use of opioid maintenance therapy 'buprenorphine' in a rodent model of gestation. As a senior graduate student, Chela has integrated facets of developmental psychobiology with attention to sex differences within the neuroscience of addiction and substance abuse. Her work has received several honors and academic awards including an undergraduate research scholarship and graduate fellowship that has funded and promoted Chela's scientific pursuit. Moving into her dissertation, she will expand her translational research model to investigate the transition from opiates of abuse to approved opiate maintenance therapy in a gestational framework.
Recently, she designed a project to build a Physiologically Based Pharmacokinetic Model for cannabidiol (CBD) and evaluate behavioral outcomes. Chela's ultimate aim is to provide neurobiological evidence associated with changes related to substance abuse and outcomes resultant with pharmalogical treatment strategies. Her goal is to make empirical findings accessible to the general public in order to inform social perceptions and reduce stigma associated with substance use disorders.
Research interest(s)/area of expertise
Behavioral cognitive neuroscience
Research
Chela's preclinical research experiences have focused on the facets of biopsychology and neuroscience. Specific project favorites are niched in psychopharmacology and vary from studies regarding behavioral and neurochemical effects of drug abuse and have expanded to building and improving translational models for studying opiate addiction in pregnancy and increasing maternal care. Under the guidance of Drs. Scott Bowen and Susanne Brummelte, she recently completed her master's thesis investigating the effects of gestational opioid exposure on offspring and effects on neonatal abstinence syndrome and offspring neurobehavioral development.
Education
B.S. in Psychology
M.A. in Psychology
Awards and grants
R36 Drug Abuse Dissertation Research - NIH Research Training: "Buprenorphine as an opioid maintenance therapy in pregnancy: Evaluating the effects on maternal brain and behavior in a translational rodent model" (impact score 36, not awarded)

 Thomas C. Rumble University Graduate Fellowship (2019-2020)

 Founders Award of the Michigan Chapter of the Society for Neuroscience (MiSFN), 2019

'FORCE' Junior Investigator Travel Awardee, 2019

The Julie A. Thomas Endowed Scholarship in Psychology, 2020-2021

 The Julie A. Thomas Memorial Scholarship Award, 2019

 NIDA Women & Sex/Gender Differences Junior Investigator Travel Awardee (deferred), 2019

International Society for Developmental Psychobiology Travel Awardee, 2019 

International Society for Developmental Psychobiology Travel Awardee, 2018

The Rosen Award for Outstanding Teaching & Research, 2018 

Honorable Mention Award: Poster Presentation at the Graduate and Postdoctoral Research Symposium, Wayne State University, Detroit, MI. 2019

 Honorable Mention Award: Poster Presentation at The Chuan-Pu Lee, Ph.D. Endowed Graduate Student Research Presentation Day (GSRPD), Wayne State University, Detroit, MI. 2018

Supplemental Research Grant - WSU Graduate School and the Division of Research: based on the accepted submission of my R36 Drug Abuse Dissertation Research Award.

 Betty J. Neitzel Summer 2020 Research Award, 2020
Selected publications
Wallin, C. M., Bowen, S. E., Roberge, C. L., Richardson, L. M., & Brummelte, S. (2019). Gestational buprenorphine exposure: Effects on pregnancy, development, neonatal opioid withdrawal syndrome, and behavior in a translational rodent model. Drug Alcohol Depend, 205, 107625. doi:10.1016/j.drugalcdep.2019.107625
Wallin, C. M., Bowen, S. E., & Brummelte, S. (Submitted Nov 2020) Opioid use during pregnancy can impair maternal behavior and the Maternal Brain Network: a scoping review of the literature. Submitted to Neurotoxicology and Teratology
Roberge, C. L., Tilson, K. M., Wallin, C. M., & Brummelte, S. (Submitted Nov 2020) A novel method using Nutella® to temporarily increase maternal care behavior within a rat litter. Submitted to Developmental Psychobiology
Wallin, C. M., Valdez, G. R. (2015) Opioid Receptor Antagonist Naltrexone Regulation of Stress Enhanced Ethanol Self-Administration. GVSU McNair Scholar Journal 19
Incremental coursework
Quantitative Methods in Psychology I
Quantitative Methods in Psychology II
Cognitive Neuroscience
Methods & Models in Psychopharmacology
Theories of Learning
Essential Research Practices
Current Topics in Behavioral Neuroscience
Functional Neuroanatomy