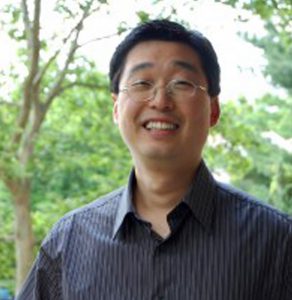 Associate Professor
313-577-1384
313-577-8822 (fax)
Chem 421
Website(s)
Young Hoon Ahn
Department
Chemistry
Research interest(s)/area of expertise
Protein post-translational modifications, proteomics, cysteine redox biology, chemical biology,
Research
The research in the Ahn Laboratory is centered around protein oxidative modifications that occur in response to endogenous reactive species, including reactive oxygen species (ROS) and reactive nitrogen species (RNS). We use various interdisciplinary approaches, including synthetic chemistry, protein engineering and biochemistry, enzyme kinetics, and cell biology.
1) Protein Glutathionylation
Our recent research focused on the investigation of protein glutathionylation. Glutathionylation is disulfide bond formation of a protein cysteine residue with intracellular glutathione that occurs in response to oxidative stimuli. There are many examples that highlight the significance of protein glutathionylation in human health and disease.
A chemical approach to investigating protein glutathionylation
We have developed a biochemical approach, called clickable glutathione, that labels glutathione with a clickable group to identify and characterize protein glutathionylation. The clickable group provides a chemical tag that allows for sensitive, selective, and versatile detection of glutathionylation. We are applying our approach to protein identification in various ROS-relevant disease models.
Identification and functional studies of glutathionylated proteins
ROS are significant factors that contribute to heart and muscle diseases, neuronal damage, and cancer development and progression. It is widely accepted that an intracellular level of ROS is significantly influenced by cellular metabolic state, or nutrient and oxygen availability. We are currently investigating two biological systems, cardiomyocytes and cancer cells, for identification and functional analysis of glutathionylated proteins under metabolic stress, including hypoxia, nutrition-deprivation, ischemia, and ischemic reperfusion. We use various approaches, including protein biochemistry, proteomics, and cell biology, to investigate the functional significance of glutathionylation in individual proteins.
2) Targeting Cysteines in Redox-Sensitive Enzymes
We are interested in developing small-molecule or peptide-derived inhibitors for redox-sensitive enzymes that contain the reactive cysteine residues and are implicated in cancers. We are developing the potential inhibitors by employing various approaches, including the synthetic organic chemistry, molecular modeling, the rational-design, the peptide-library screening, and the phage-display screening.
 
Education
B.S., Pohang University of Science and Technology
M.S., Pohang University of Science and Technology
Ph.D., New York University
Postdoctoral Fellow, Johns Hopkins University School of Medicine
Selected publications
Gurusingha Arachchige, H. S., Herath Mudiyanselage, P. D. H., VanHeck, G. C., Patel, K., Cheaito, H. A., Dou, Q. P., Ahn, Y. H. Synthesis and Evaluation of Tiaprofenic Acid-derived UCHL5 Deubiquitinase Inhibitors, Bioorg. Med. Chem. 2020, In press.
VanHecke, G. C.,ª Yapa Abeywardana, M.,ª Huang, B., Ahn, Y. H. Isotopically-labelled Clickable Glutathione to Quantify Protein S-Glutathionylation, ChemBioChem, 2020, 21, 853-859. ª equal contribution
VanHecke, G. C., Yapa Abeywardana, M., Ahn, Y. H. Proteomic Identification of Protein Glutathionylation in Cardiomyocytes, J. Proteome Res. 2019, 18, 1806-1818.
Munkanatta Godage, D. N. P., VanHecke, G. C., Samarasinghe, K. T. G., Feng, H. Z., Hiske, M., Holcomb, J., Yang, Z., Jin, J. -P., Chung, C. S., Ahn, Y. H. SMYD2 Glutathionylation Contributes to Degradation of Sarcomeric Proteins. Nature Commun. 2018, 9, 4341
Samarasinghe, K. T. G., Munkanatta Godage, D. N. P., Zhou, Y., Ndombera, F. T., Weerapana, E., Ahn, Y. H.* Clickable Glutathione Approach for Identification of Protein Glutathionylation in Response to Glucose Metabolism. Mol. Biosyst. 2016, 12, 2471-2480.
Ndombera, F. T., VanHecke, G. C., Nagi, S., Ahn, Y. H.* Carbohydrate-based Inducers of Cellular Stress for Targeting Cancer Cells. Bioorg. Med. Chem. Lett. 2016, 26, 1452-1456.
Samarasinghe, K. T. G., Ahn, Y. H.* Synthesizing Clickable Glutathione by Glutathione Synthetase Mutant for Detecting Protein Glutathionylation. SynLett. 2015, 26, 285-293.
Samarasinghe, K. T. G., Munkanatta Godage, D. N. P., VanHecke, G. C., Ahn, Y. H.* Metabolic Synthesis of Clickable Glutathione for Chemoselective Detection of Glutathionylation. J. Am. Chem. Soc. 2014, 136, 11566-11569.
Currently teaching
CHM 5998 Honors Thesis Research in Chemistry, F2020
CHM 5999 Research in Chemistry, F2020
CHM 6610 Biological Chemistry Laboratory, F2020
CHM 8840 Seminar in Biochemistry, F2020
Courses taught
CHM 1030 Survey of Organic and Bioorganic Chemsitry
CHM 5600 Survey: Biochemistry
CHM 6270 Advanced Bioorganic Chemistry and Drug Design
CHM 6620 Metabolism: Pathway and Regulation: Biochemistry
CHM 6610 Biological Chemistry Laboratory
CHM 7600 Structure & Function: Biomolecules
CHM 7620 Metabolism: Pathway and Regulation: Biochemistry