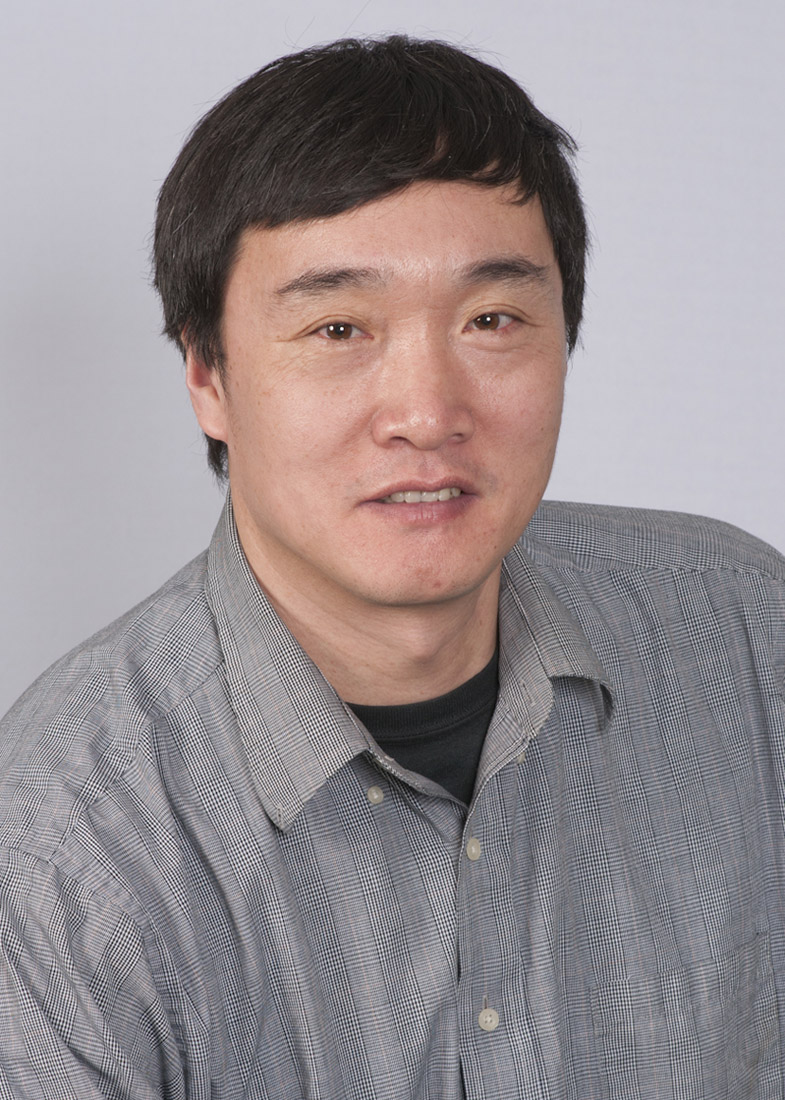 Assistant Professor
313-577-6451
313-577-6891 (fax)
 Biological Science Building 5107
Websites
Chuanzhu Fan
Research Interest/Area of Expertise
 molecular evolution, genomics, epigenomics, population genetics/genomics, plant biology
Research
My laboratory investigates genetics and epigenetics underlying the evolution of genes and genomes in plants, especially origination and functionalization of the genomic novelties. Our approach to these problems will be combining our investigations in the model organism Arabidopsis and the critical crop plant species Oryza. We will focused on the three major directions to understand the exciting process leading to fixation and phenotypic evolution of evolutionary novelties, especially the newly evolving genes in recent evolutionary times.
Education – Degrees, Licenses, Certifications
Ph.D. 2003. North Carolina State University
Selected Publications
Jun Wang*, Feng Tao*, Nicholas C. Marowsky, and Chuanzhu Fan. 2016. Evolutionary fates and dynamic functionalization of young duplicate genes in Arabidopsis genomes. Plant Physiology 172: 427-440.
Jun Wang, Yeisoo Yu, Feng Tao, Jianwei Zhang, Dario Copetti, Dave Kudrna, Jayson Talag, Seunghee Lee, Rod A. Wing, and Chuanzhu Fan. 2016. DNA methylation changes facilitated evolution of genes derived from Mutator-like transposable elements. Genome Biology 17: 92
Jun Wang and Chuanzhu Fan. 2015. A neutrality test for detecting selection on DNA methylation using single methylation polymorphism frequency spectrum. Genome Biology and Evolution 7: 154-171.
Jun Wang, Nicholas C. Marowsky, and Chuanzhu Fan. 2014. Divergence of gene body DNA methylation and evolution of plant duplicate genes. PLoS One 9: e110357.
Chengjun Zhang*, Jun Wang*, Manyuan Long, and Chuanzhu Fan. 2013. gKaKs: The pipeline for genome level Ka/Ks calculation. Bioinformatics 29: 645-646.
Jun Wang, Nicholas C. Marowsky, and Chuanzhu Fan. 2013. Divergent evolutionary and expression patterns between lineage specific new duplicate genes and their parental paralogs in Arabidopsis thaliana. PLoS One 8: e72362.
Chengjun Zhang*, Jun Wang*, Nicholas C. Marowsky, Manyuan Long, Rod A.Wing, and Chuanzhu Fan. 2013. High occurrence of functional new chimeric genes in survey of rice chromosome 3 short arm genome sequences. Genome Biology and Evolution 5: 1038-1048.
Muhua Wang*, Yeisoo Yu*, Georg Haberer*, Pradeep R. Marri*, Chuanzhu Fan; Jose L. Goicoechea, Andrea Zuccolo; Xiang Song; Dave Kudrna; Jetty S.S. Ammiraju; Rosa M. Cossu; Carlos Maldonado; Jinfeng Chen; Seunghee Lee; Nick Sisneros; Kristi de Baynast; Wolfgang Golser; Marina Wissotski; Woojin Kim; Paul Sanchez; Marie-Noelle Ndjiondjop; Kayode Sanni; Manyuan Long; Judith Carney; Olivier Panaud; Thomas Wicker; Carlos A. Machado; Mingsheng Chen; Klaus F.X. Mayer; Steve Rounsley; and Rod A. Wing. 2014. The genome of African rice (Oryza glaberrima) and evidence for independent domestication. Nature Genetics 46: 982-988.
Dario Copetti, Jianwei Zhang, Moaine El Baidouri, Dongying Gao, Jun Wang, Elena Barghini, Rosa M. Cossu, Angelina Angelova, Carlos E. Maldonado L., Stefan Roffler, Hajime Ohyanagi, Thomas Wicker, Chuanzhu Fan, Andrea Zuccolo, Mingsheng Chen, Antonio Costa de Oliveira, Bin Han, Robert Henry, Yue-ie Hsing, Nori Kurata, Wen Wang, Scott A. Jackson, Olivier Panaud, and Rod A. Wing. 2015. RiTE database: a resource database for genus-wide rice genomics and evolutionary biology. BMC Genomics 16: 538.
Chuanzhu Fan*, Jason Walling*, Jianwei Zhang, Cory Hirsch, Jiming Jiang, and Rod Wing. 2011. Conservation and purifying selection of transcribed genes located in a rice centromere. Plant Cell 23: 2821-2830.
Currently Teaching
Courses taught
BIO5150/7150 Genomics
BIO6060 Molecular Evolution