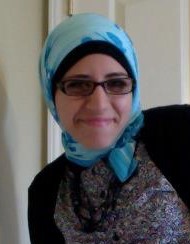 Phd
Adjunct Faculty
163.1 Manoogian
Websites
Reem Abou-Samra
Reem Abou-Samra is an instructor of Near Eastern Studies and Islamic history at Wayne State University. She has a doctoral degree in Political Science in which she conducted an Oral History research project of Muslim American Opinion Leaders and their perceptions of what it means to be an American and a patriot (2013). She also has obtained a Masters degree in Middle Eastern studies, where her project focused on researching on exegetical interpretations of identity, community, and what it means to be part of a 'ummah' according to Islamic political thought, theology and literature. She has presented her research at national and international conferences regarding issues of identity with its overlap in themes of patriotism, Americanness, cosmopolitanism, religion, race, consciousness, in-group/out-group privilege and degradation with regards to members of the Muslim-American, African-American, and Arab-American communities.
Research Interest/Area of Expertise
Research interests are at the intersection of identity, religion, politics, and perceptions self-worth. This intersection of themes can be found in our current political reality in the United States of America or can be found while studying the historical empires of the last 1400-1500 years.
Education – Degrees, Licenses, Certifications
PhD, Political Science, Wayne State University, 2014
MA, CMLLC, Arabic & Near Eastern Studies, Wayne State University 2012
MA, Political Science, Wayne State University, 2009
BA, Political Science, University of Massachusetts, 2006
Selected Publications
Abou-samra, Reem. "A Spring of Concentric Circles: Overlapping Identities in Kuwait and Bahrain and Their Effect on the Arab Spring." Pp. The Silent Revolution: The Arab Spring and the Gulf States. M. Seikaly and K. Mattar. Gerlach Press, 2014
Currently Teaching
NE2030/HIS1800 - Age of the Islamic Empires

NE3520 - Women and Gender in the Middle East
Courses taught
NE5220 - Muslim Personal Law
NE5770- Modern Egypt