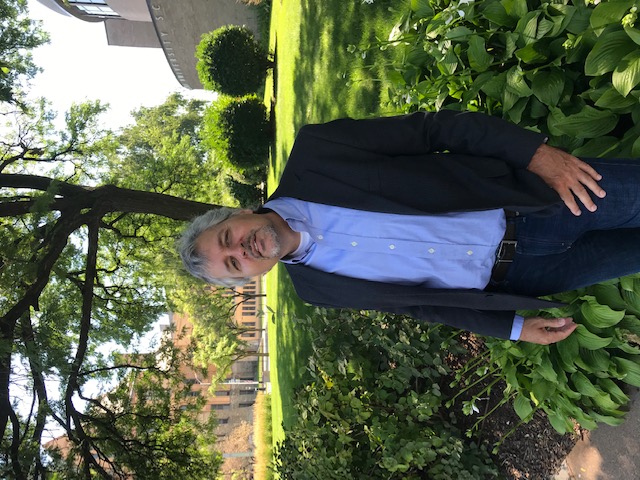 Adjunct Professor in Geography
586-206-0545
313-577-0022 (fax)
Urban Studies & Planning
3198 Faculty Administration Building (FAB)
656 W. Kirby St.
Detroit, MI 48202
Dennis Burin
Dr. Burin has taught at WSU since 2007.  His teaching and research focuses on both physical and human geography as well as preparing future k-12 teachers to teach in the social sciences.  In his free time he enjoys biking, watching all Detroit sports teams, playing the guitar, and traveling.  Dr. Burin is a retired high school teacher and administrator.
Education
Bachelors Degree from the University of Michigan and Masters and Doctorate from Wayne State University
Awards and grants
2010 Diversity Distinction Award from the City of Sterling Heights and 2010 Congressional Recognition for Sterling Heights TV show that promotes understanding between various ethnic and cultural groups.  The show runs daily and is called "Getting to Know Your Neighbors" and is hosted by Dr. Burin.

Goethe Institute Fellowship for study in Germany (Summer 2007) including in-depth analysis of k-12 system in Berlin, Dresden, and Frankfurt.

Fulbright-Hays Scholar for study in Vietnam (Summer 2004) including in-depth analysis of k-12 system in Hanoi and Saigon.

Recipient of doctoral scholarship from Adult Literacy Association at Central Michigan University (1997)

Excellence in Teaching Award, 2022, Oakland University

 

Guest High School Keynote Address Commencement Speaker, Ellsworth High School, Michigan, June 2, 2023 Speech Title: Dream Big, Work Hard, Be Kind, Never Give Up and Amazing Things Will Happen!
Other qualifications directly relevant to courses taught
Certified teacher in Michigan for grades K-8 (All Subjects) and grades 9-12 CX/CC (History, Geography, Government, Psychology, Economics, Sociology). Certificate #: CC-VPX650080016 (30 hour continuing/permanent)
Courses taught by Dennis Burin
Winter Term 2024 (future)
Fall Term 2023 (current)
Spring-Summer Term 2023
Winter Term 2023
Fall Term 2022
Spring-Summer Term 2022
Winter Term 2022
Fall Term 2021