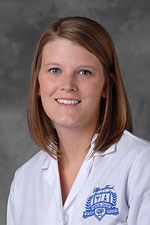 Audiology Clinical Director
800.436.7936
207 Rackham Building
Katherine Marchelletta, AuD, CCC-A
Dr. Marchelletta is a clinical audiologist at Henry Ford Hospital in Detroit, and the site coordinator for the Wayne State University Audiology Clinic. She teaches first-, second-, and fourth-year Audiology students in the clinic, and teaches both hearing aid courses.
Education – Degrees, Licenses, Certifications
BS in Speech Pathology and Audiology, 2004, Western Michigan University
Doctor of Audiology (AuD), 2008, Indiana University
Awards and Grants
2008 - Recipient of Indiana's Outstanding Student Clinician in Audiology award by the Indiana Speech-Language and Hearing Association
2008 - Wagner KM, Humes LE, and Thompson E. General poster presentation (Comparing Couple and Real Ear Measures of Hearing Aid Directivity) at the American Auditory Society annual meeting.